All staffing software is not created equal meet Simplifly.
Request Free Demo
- Or Call (909) 484-4203
What makes Simplifly different from every other software on the market?
1. A single solution for sales, recruiting & payroll teams to work together.

2. 100% cloud-based application that includes mobile apps for iOS & Android
 3. Next level new hire paperless onboarding  through the mobile app.
Simplifly Your Systems And Workflow
Eliminate the hassle of duplicate entries.
Simplifly delivers the recruiting and on boarding tools you need to efficiently connect with your candidates while organically growing your candidate pool anywhere and anytime.
Paperless on-boarding gives candidates a hassle-free experience
---
E-signature, powered by Simplifly proprietary software makes it easy for hires to complete paperwork electronically.
---
Email and Mobile devices speeds the process by allowing candidates to engage from anywhere, on any device. 
Sales/CRM
With the click of a button allows your sales team to accurately quote a new prospect and issue a professional proposal. When your prospect says yes, another click of a button hands them off to your recruiters.
Online Applicant Recruitment
Easily post open positions to your website and social media. Your applicants can apply from online, their phones and even from kiosks in your lobby.
Employee Placement Tracking
Easily communicate with your applicants, candidates and employees with our software's text messaging feature. Track all movement and activity, with click and move workflows while keeping accurate notes at your recruiters finger tips.
Client Billing
Seamlessly import your employee's hours from your timekeeping software. Easily create customized invoices for your clients. Works with your third party payroll software provider through API integration or CSV export feature.
Claims Reporting And Tracking
Easily manage your company's claims. Simplifly makes it easy to maintain communication, documentation, and compliance.
Simplifly Benefits
Better Productivity

Fully-Integrated Staffing Solution

Your Team Working In The Same Software, On The Same Page
or call in (909) 484-4203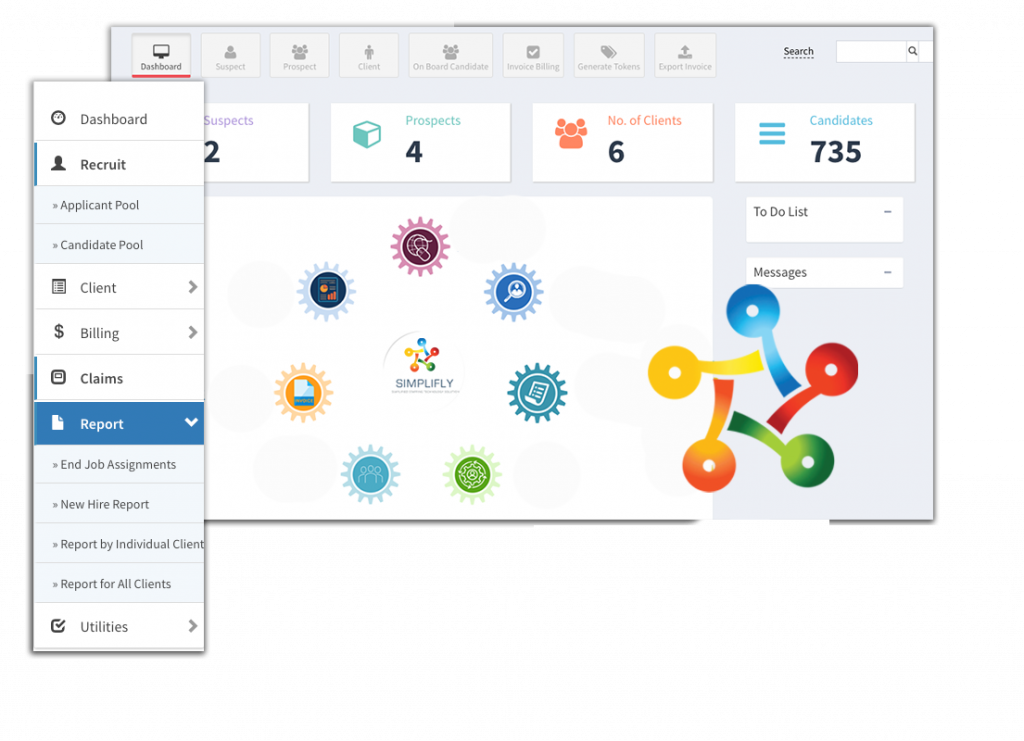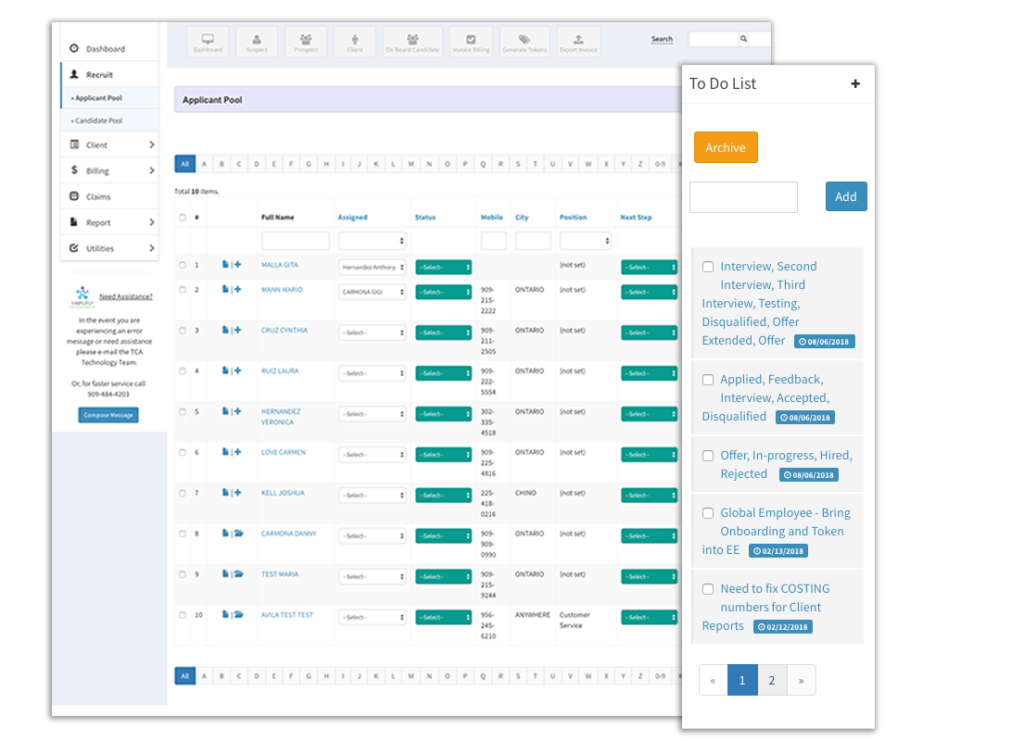 Why Simplifly?
In working with the staffing industry over the last decade, we listened to your requests for a software solution that would eliminate the need for multiple software solutions to run your staffing company. We The Corporate Advocate, created Simplifly for this reason. Our clients tell us it has made them more efficient, more profitable and allowed them to grow their companies.
We Advocate For Our Clients
See some of their testimonials below
The TCA team has been an incredible partner to our growing company.
Geneva M.-HFC Solutions, Inc.
TCA walked me through everything. It's been fantastic.
They literally drop everything to assist, and help you.
Sandra T.-Diversity Business Solutions, Inc.
© 2019 Copyright, All Rights Reserved by The Corporate Advocate