SIMPLIFY THE WAY YOU DO
BUSINESS WITH OUR REVOLUTIONARY
STAFFING SOFTWARE.
Pricing as low as $350/Month with unlimited users.
Experience The Simplify Difference Today!
Simplify is an all-in-one staffing software, CRM, and ATS built to supercharge your staffing agency. We've built our recruiting and staffing software solutions to provide a single solution for all your staffing needs.
Our cloud-based staffing CRM and staffing ATS systems allow for the ultimate ease of use user experience built to optimize your staffing agency. With no long-term contracts and affordable monthly subscriptions available for unlimited users, there is no better staffing software out there. Anyone on your staff can access your account anywhere as long as they have internet access.
We're simplifying how you manage your staffing, recruiting, and more!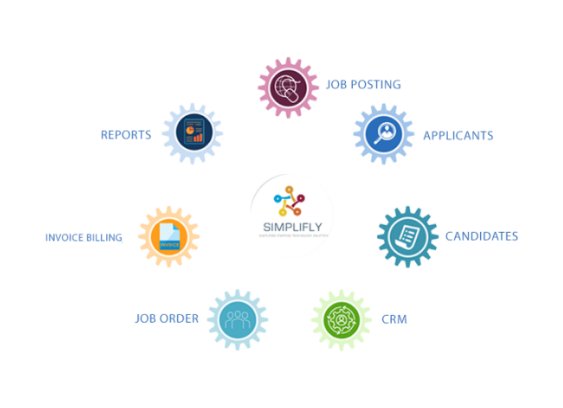 See what our clients are saying!
The TCA team has been an incredible partner to our growing company.
Geneva M.-HFC Solutions, Inc.
They literally drop everything to assist, and help you.
Sandra T.-Diversity Business Solutions, Inc.
TCA walked me through everything. It's been fantastic.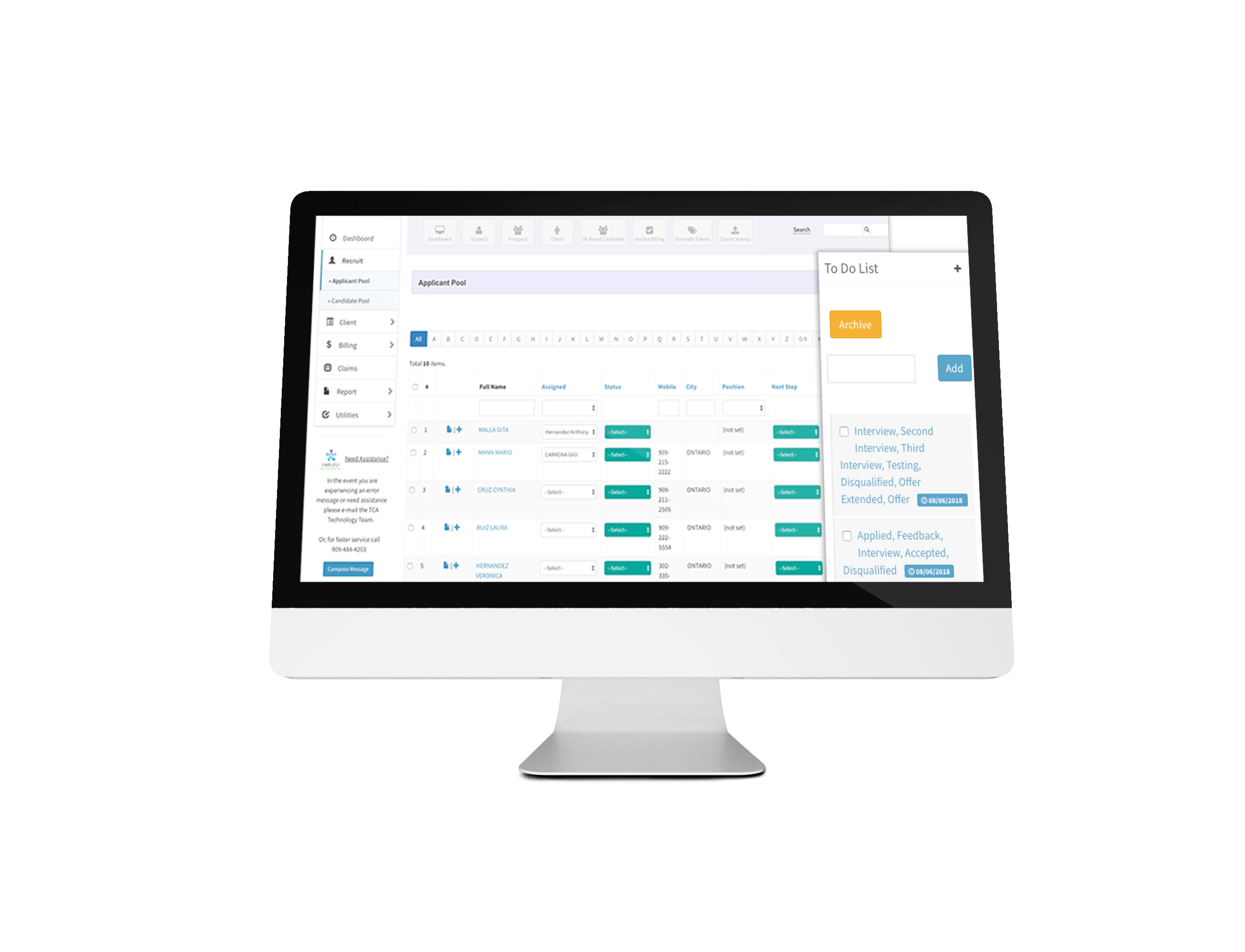 Why Simplifly?
For over ten years, we have been working closely with staffing agencies to help them find new ways to optimize and innovate their entire staffing operations. We took all of that experience and knowledge and packed it into our comprehensive and state-of-the-art staffing software. Our platform mirrors your entire workflow from staffing back office to the recruiter to invoicing. It's all covered in Simplify.
Simplify Your Workflow
Eliminate the need for redundancies with our revolutionary recruiting software! We have solutions for each departments.
Sales CRM
In an instant, your sales time can send a quote to a new client with our simple to use platform. Once they accept your quote, they'll instantly be transferred to client status in your staffing CRM.
Applicant Recruitment Made Easy
Our state-of-the-art staffing ATS allows you to manage and simplify the way you find new talent. Search applicants with a few short clicks or post a new job in seconds with our recruiting and staffing software solutions.
Employee Placement Tracking Simplified
Simplify allows you to quickly communicate with applicants, candidates, and employees directly from our innovative software. You'll know the status of every job, be able to assign tasks quickly, and more with our staffing ATS software.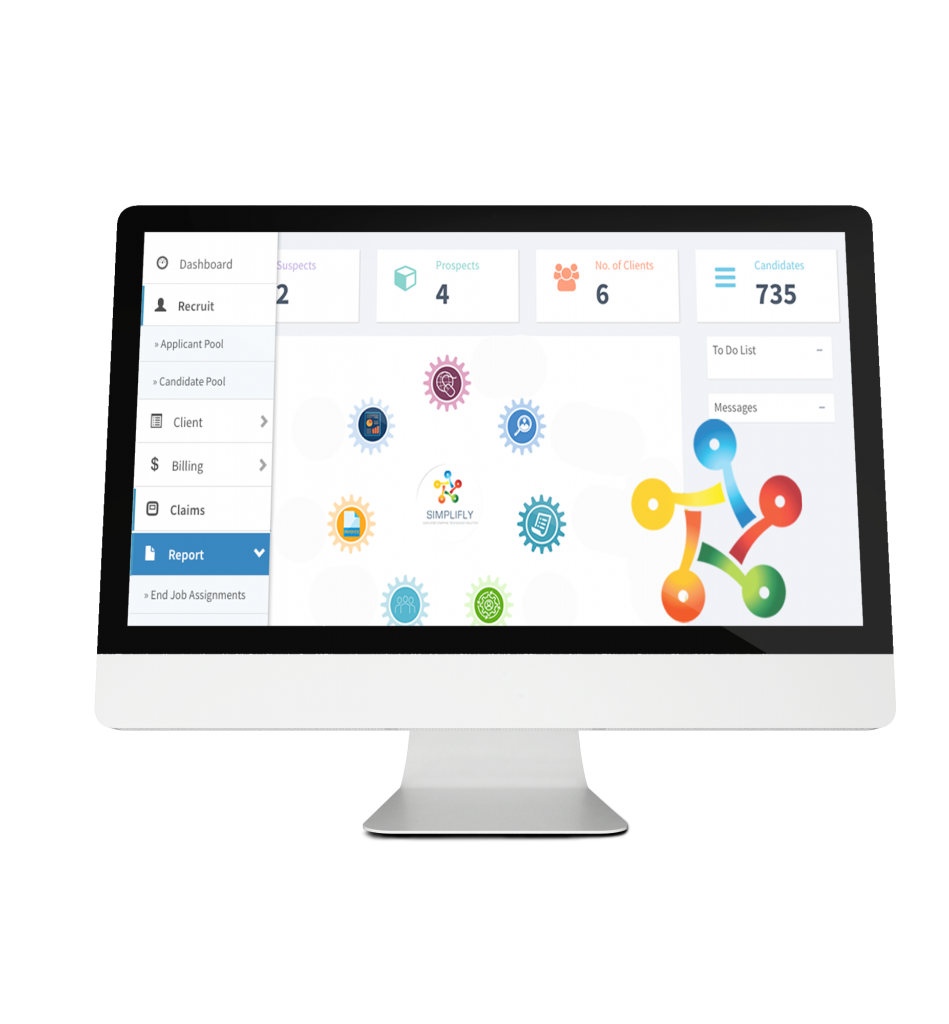 Billing Revolutionized
We've created a seamless billing experience right in our staffing software. You can import your employee's hours with 1,000 transactions in under 2 minutes. We've revolutionized invoicing for the staffing industry!
Match Job Orders In Seconds
Our proprietary matchmaking algorithm allows you to fill job orders quickly from your staffing ATS. Simply tag specific skills, languages, and shifts to candidates and filter for the best match for every job order!
Hassle-Free Onboarding
Simplify's paperless onboarding gives every candidate a hassle-free, easy-to-use experience. We make hiring the perfect application easy. You'll have their paperwork completed entirely electronically in minutes!
Experience the power of seamless integration and
optimization for your agency today!
What makes Simplifly different from every
other software on the market?